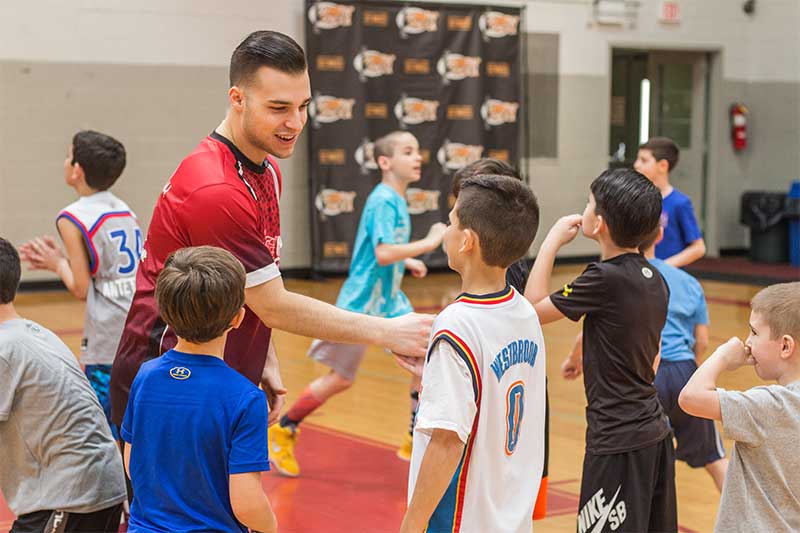 SCHEDULE
Camps are scheduled for one full week at a time and run from
9:00am-3:30pm (early drop-off available, 8:30am).
At our camps, the morning is dedicated to skill development. We want the players to come out of camp with new knowledge of the game of basketball. We want them to be able to take skills that they learn and apply them in their games at camp and during their basketball season.
After skill work in the morning, the schedule calls for lunch. We have a hot lunch menu that is set for the week and available for purchase. You may choose to bring your own lunch as well.
After lunch, it's GAME TIME!
GAMES AND COMPETITION
At Shootin' School, we have ongoing competitions, contests and tournaments throughout the week.
First is our Knockout Challenge. Players participate in 4 different knockouts throughout the week! Each winner is awarded a trophy at the end of the week and a chance to win an additional prize.
Next is our Shootin' School Camp Honor Roll Board. Players compete for a spot a the top of 7 different events. The players can choose to participate in whatever events they want for the allotted time. If at the end of the week they are at the top of any of the 7 categories, they will be awarded with a certificate and chance to win an additional prize!
Throughout the week we have two ongoing tournaments. We have our 1 on1 Tournament and our Team Tournament. Players and teams go head-to-head in each tournament until the end of the week when we crown our champions, we give them trophies and a chance to win an additional prize!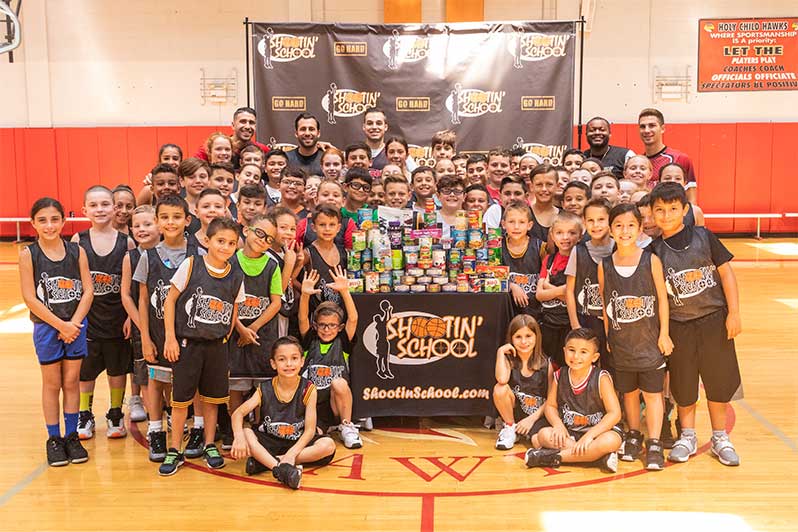 SAFETY
All weeks of camp are staffed with a nurse or physical therapist.
GIVING BACK
For the past 5 years we have done a "Give Back Day" where we ask players to bring in canned goods or boxed goods for the CYO Food Pantry. Kids love giving back to the community and at the end of the summer, on occasion, the Staten Island Advance posts our pictures in the local newspaper!
JERSEY DAY
Lastly, we have our weekly " Wear Your Favorite Jersey to Camp Day " where players wear their favorite jersey or a Shootin' School Jersey to camp! The pictures on "Wear Your Favorite Jersey to Camp Day" are always AWESOME and the kids are always pumped up to rep' their favorite teams and players…even if its their own team or their own jersey!
AWARD CEREMONY
On the final day of camp, we hold an Award Ceremony to honor all of our champions, award winners, and player standouts. No one goes home empty handed. All players are presented with a Shootin' School Report Card and Shootin' School Basketball!