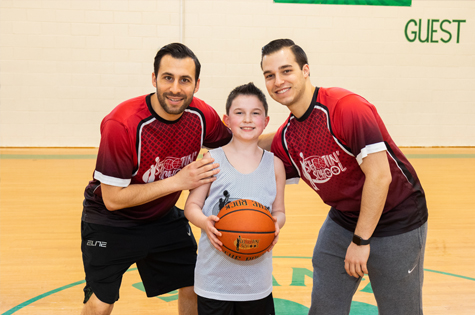 Two (2) Hours of basketball.
One (1) slice of pizza for all of the players in attendance.
One (1) Shootin' School Jersey for the guest of honor.
All decorations, if desired (table drapes, balloons, plates, napkins, utensils).
Additional food (addtional pizza, heroes, cake, etc.)
A FEW IDEAS TO MAKE
YOUR BIRTHDAY PARTY
memorable
We have Shootin' School favors available.
–SHOOTIN' SCHOOL JERSEYS – $20 per player
–SHOOTIN' SCHOOL BASKETBALLS – $12 per player
–SHOOTIN' SCHOOL WATERBOTTLES – $10 per player
-Make your tablecloths, cake, and other decorations basketball related. -Bring mini water bottles for players during the party. -Bring a marker to mark player water bottles (reduces the amount of wasted water and the spread of germs). -Prizes or Giveaways for Basketball Contests.
We require a minimum of 20 players at each party. Our fee is only $30 per player.
You do NOT have to pay a fee for any adults in attendance.